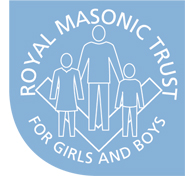 From early in 2014 until the summer of 2019, the Province of Hertfordshire will be "In Festival", for the Royal Masonic Trust for Girls and Boys which was the oldest of the four Masonic Charities, prior to the creation of the new Masonic Charitable Foundation in 2016. The relief of poverty and to advance the education of children of a Masonic family, and when funds permit, support other children in need".  The Trust helps children and young people of all ages to overcome the barriers created by poverty, and complete their education.
This support is also available for those in higher or further education or those participating in apprenticeships for practical trades.
The majority of the beneficiaries attend their local state school and support for children at independent schools is usually only provided to those who are already attending the school when the distress occurs, in order to maintain the stability of their education.
During the Festival Period the Lodges in our Province will be asked to do everything they can to raise as much money as possible to go towards and achieve the target set by our Provincial Grand Master.
This target of £3 million over 5 years, actually can be achieved if every Hertfordshire Freemason donates £8 per month for the full 60 months of the Festival.
The Provincial Team headed by W. Bro. Richard Knifton A.P.G.M. and supported by W. Bro. Chris Noble, Prov. G.CStwd will do their very best to assist in any way they can to help each Lodge and each member achieve this target.
Comprehensive and complete literature is available both in hard copy and on the Provincial Website to ensure the Festival Period is as productive and enjoyable as possible.
A very common questions is 'How do I know when I am close to a Festival Honorific? The Answer is simple, you can phone 020 7405 2644 and ask for the RMTGB Donations Desk or email sgeorge@mcf.org.uk and request your personal statement which is usually emailed on the same day. If you achieve a Festival Honorific W.Bro Chris Noble will write to you with thanks.