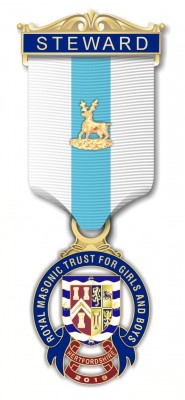 Our Province has decided not to offer a full range of items for sale during the Festival, but instead asks every Lodge to concentrate on achieving their own best contribution possible.
The one main exception will be is the availability of the Provincial Tie/pocket square & bow tie which will be available as soon as stocks allow.is available via Fleet House Regalia, or your Masonic Centre. These ties can be obtained through your Centre Coordinator, our Fleet House Regalia.
The new Tie will be a Provincial Tie, and as such a suitable donation will be made towards the Festival total each year of the Festival from the proceeds of the tie donations. The new Provincial Tie set carries a substantial donation toward the 2019 Festival.There is also a very nice Festival "Herts Stag" cuff-link set available in time for Christmas.