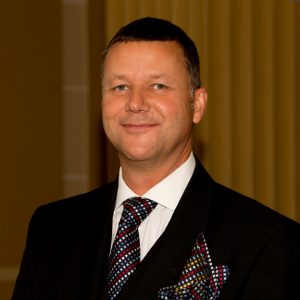 Provincial Grand Director of Ceremonies
Keith was born in Edgware North London in 1965. Educated at Orange Hill Grammar School he left in 1981 and joined theRoyal Navy as a Tactical Computer Operator (Warfare). On leaving the RN he served with the Met Police for a short time before commencing a commercial career running his own engineering recruitment agency. More recently he has diversified into property development and portfolio management in Canary Wharf and the City of London. He married Lorna in 1989 and they have two children, Myles and Amelia.
He was initiated into Amwell Lodge No. 6459 in 1995 becoming WM in 2002. He was appointed Provincial Assistant GDC in 2009, Provincial Deputy GDC in 2012 and Provincial GDC in 2014. He is also a member of Herts Masters' Lodge No. 4090. In Grand Lodge he was appointed PAGDC in 2015. Exalted into Ware Chapter No. 3002 in 2003 he became MEZ in 2006. Promotion in The Royal Arch came in the form of an active rank, becoming Provincial Assistant GDC in 2010. He is a member of Rose Croix and Joined Godfrey Kent Chapter No. 1117 in 2010. He is a Freeman of the City of London and has been a Liveryman in the Worshipful Company of Distillers since 2008, where he is also the Deputy Liaison Officer for the Companies' affiliated warship HMS Montrose. He enjoys good food and wine and is a lifelong supporter of West Ham Utd. and despite this remains mostly cheerful. When time permits he enjoys golf and swimming.