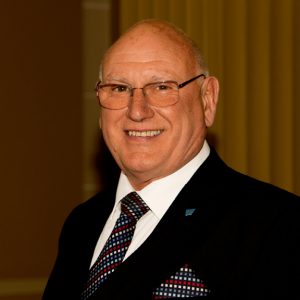 Assistant Provincial Grand Master
W Bro Richard Knifton is a Hertfordshire man through and through. He was born in Bentley Heath near Potters Bar in 1949 and educated at St Albans School. He is married with two grown up daughters. Richard was a keen rugby player at school and afterwards as an Old Albanian. He has maintained a close relationship with the OA Club and the school, currently as a committee member of the Old Albanian Club. After 10 years in the food industry he returned to Hertfordshire to take over the running of the family engineering and commercial property rental businesses from which he semi-retired in 2006.
He was introduced into Freemasonry by his father in law and initiated into the Old Albanian Lodge No 4999 in 1986 becoming master in 2000. He served actively in the province for two years as ProvJGD until his latest appointment. He was exalted in the Old Albanian Chapter in 1995 and advanced into the Scholars in Amity Lodge of Mark Master Masons in 1988.
His hobbies include clay pigeon shooting, gardening, motor boating and music, playing guitar, piano and drums – happily not at the same time.