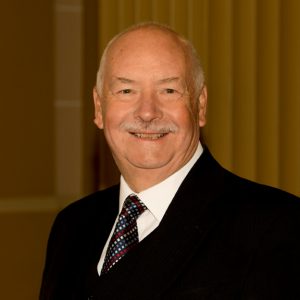 Provincial Grand Treasurer
Richard Phillips was born and bred in East Yorkshire, and began his career in finance when he joined a small firm of chartered accountants in Hull. After qualifying in 1968 he moved to Cooper Brothers and Co (now part of PriceWaterhouseCoopers) first in Leeds, then in Rhodesia, and finally in London where he became a partner in 1984. He stayed there until 1994 when he retired and set up his own consulting practice. Richard has always been a keen Hull FC (Rugby League) and Hull City (soccer) supporter and enjoys cricket, too.
His hobbies include walking, with a penchant for the fells of the Lake District and looking after his substantial garden. He was introduced into masonry by the father, but it was not until his father's death that he discovered his grandfather had also been a mason. Richard was initiated into Harpenden Lodge in 1984. Since going through the chair in 1992 he served the lodge as treasurer, and then as charity steward. For much of the time while treasurer he sat alongside Assistant Provincial Grand Master W Bro Keith Gilbert, who was the lodge's secretary. Richard was elevated into the Royal Arch in Harpenden in 1990 and is also a member of the Mark, Royal Ark Mariner and Rose Croix orders in London and in Hertfordshire.