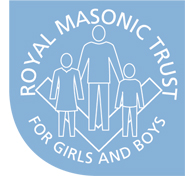 From early in 2014 until the summer of 2019, the Province of Hertfordshire will be 'in Festival', for the Royal Masonic Trust for Girls and Boys (which was the oldest of the four Masonic charities prior to the creation of the new Masonic Charitable Foundation in 2016).
During the five-year period of the 'Festival' the Lodges in our Province have been asked to do everything they can to raise as much money as possible to go towards and achieve the target set by our Provincial Grand Master. This target is £3 million and could actually be achieved very easily if every Hertfordshire Freemason donated just £8 per month for the full 60 months of the Festival.
The Royal Masonic Trust for Girls and Boys aims to relieve poverty and advance the education of children and grandchildren of Freemasons who have suffered a distress; a life-changing event such as the death of one or both parents, family breakdown, redundancy or disability of a parent, which has resulted in financial hardship. They can also help children and young people from Masonic families with severe disabilities.
The Trust's support aims to enable higher academic attainment, improved standards of day-to-day living as well as better life and employment prospects. Each year, around 2,000 children and young people from Masonic families receive their support.
After discharging their duty to children and young people from Masonic families, they can also help non-Masonic children and currently support over 10,000 non-Masonic children through their 'Stepping Stones' scheme and the standalone charity 'Lifelites'.
The Province's efforts in the Festival are being headed by the Assistant Provincial Grand Master, W Bro Richard Knifton, who is supported by the Provincial Grand Charity Steward, W Bro Chris Noble. Both are dedicated to doing their very best to assist in any way they can to help each Lodge and each member achieve our ambitious target.
If you would like to make a donation to the 2019 Festival, please click here.
Update
As of January 2019:
It is no secret that, thanks to the continued generosity and support of the 'Happy Herts' members, we are ever closing-in on the Provincial Grand Master's target of £3 million. The secret is when and by how much, which will be revealed at the Celebration Dinner at the Guildhall on Saturday, 6 July. However, I am pleased to share various data supporting the success of the 2019 Herts Festival:
2019 Festival at a Glance
Gift Aid:
£325,000 total Gift Aid claimed to date (this includes 158 Lodges and 59 Chapters taking part in the Gift Aid Envelope scheme, which has contributed £409,377 in direct donations and £102,344 in Gift Aid)
Members Honorifics:
2,457 Stewards (£500 donated)
345 Vice Patron (£750 donated)
354 Patrons (£1,000 donated)
126 Grand Patrons (£2,000 donated)
117 Lodge Honorifics:
24 Vice Patron (80% of Lodge fundraising target)
40 Patron (100% of target)
41 Grand Patron (120% of target)
12 PLATINUM awards (175% of target)
W Bro Chris Noble
Provincial Grand Charity Steward