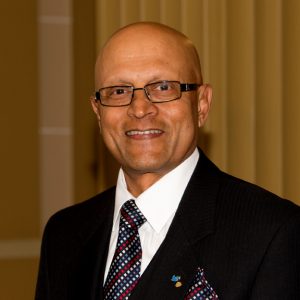 Assistant Provincial Grand Master
Jayendra Patel was born in Kampala in 1955 and moved to the UK at the age of 17 when Idi Amin expelled Asians from Uganda. After 6 months in a refugee camp at RAF Stradishall in Suffolk, he and his parents settled in Hemel Hempstead. In 1973 he began a 4 year electronic engineering apprenticeship in the IT industry after which he joined GE Medical, working on the first CT and MRI Scanners. His job took him all over the world. In 1986 he joined his wife's IT business, where he still works.
His Masonic career began in 1990 when he was initiated into Hemelhemstede Lodge No. 7923. He became WM in 1996 and ADC in 1998. He is also a member of Old Albanian Lodge No. 4999 and Herts Masters' Lodge No. 4090. He was exalted in Berkhamsted Chapter No 504 in 1993 and is a member of Old Albanian Chapter. His Provincial career began in 2003 as a ProvAGDC, followed by promotion to Provincial Grand Superintendent of Works (also active) in 2005. His appointment to ProvDepGDC followed in 2006 and in 2013 he was made Provincial Senior Grand Warden. In Grand Lodge he was appointed PAGDC in 2009 and promoted to PSGD in 2015.
Jayendra married his wife, Gita in 1981 and has two grown up children, Kayur his son (whom he had the pleasure of initiating into Old Albanian Lodge in 2009). He is also a Freeman of the City of London. He is a keen sportsman, playing golf off a single figure handicap, and in his younger days played cricket for Hemel Hempstead Town. He also enjoys football, having supported Liverpool Football Club for the last 50 years.