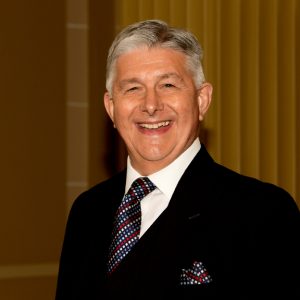 Provincial Grand Master
Paul Gower was born in North London in 1946 and attended the local grammar school, Edmonton Latymer. He was initiated into Freemasonry in 1978 in the Edmonton Latymer Lodge by his former Headmaster on the occasion of the Lodges' 50th Anniversary. He became WM in 1987 and joined Hertfordshire Masters' Lodge. He was Exalted into Royal Arch Masonry in 1981, Advanced in Mark Masonry in 1995 and Elevated in Royal Ark Mariners in 1996. He is also a member of the Ancient & Accepted Rite, a Liveryman of Plaisterer's Livery and a Freeman of the City of London.
He was appointed ProvAGDC in 1994 followed by ProvDepGDC in 1996 since when he has held continuous active office in the Province of Hertfordshire. He was promoted to ProvAGM in 2003, an office from which he derived huge enjoyment. He was appointed ProvDGM in 2011. In Grand Lodge he was appointed PAGDC in 1999 promoted PSGD in 2004 and then PGSwdB in 2012. He also holds Grand Rank in the Royal Arch, most recently being promoted to the acting Grand Rank of DepGSwdB.
His entire working life, until his recent retirement, was spent in the financial and property sectors. He married Barbara in 1968 and they have two grown up daughters. Retirement enables them to pursue their joint love of horse racing, as well as extensive travel, opera, walking, the theatre and good wine & food.